Plissé Retractable Screens & Cats
A Better Retractable Screen for Cats
Anyone with a screen door and a cat knows the combination can be trouble. Unless a traditional hinged screen door is kept latched many cats will simply push the door open and be outside before you can turn around. If the screen is latched cats will often climb up the screen damaging the fabric as they go. Plisse retractable screens and cats go together like peanut butter and jelly.
The combination of coiling retractable screens and cats is not much better. The fabric in those retractable screens is held in place only by spring tension so many cats will simply push their way under the screen fabric. That is if the retractable screen does not pop open, in which case the cat can just walk out leaving no screen to prevent insects from coming in.
What Makes Plisse Retractable Screens and Cats a Better Option?
Screen Solutions Inc has a better alternative, the Plissé (PLEE'-say) retractable screen. The Plissé, which uses a unique pleated screen fabric to fold away rather than roll up, has no need for a spring. Without a spring there is no danger of the screen popping open when a cat tries to get out.
The use of a tensioning line near the bottom allows the fabric to be pushed out of the track only an inch or two, but no more. This does not allow enough room for the average cat to slip under and the pleated fabric is flexible so there is no opportunity for a cat to climb it. While there is no such thing as a cat proof screen and the cat owner must take into account the individual characteristics of their cat and how it will interact with any screen, the Plissé retractable screens and cats are a winning combination.
Of course you should buy your cat one of our custom-built, patent-pending, backed by a lifetime warranty Plissé retractable screens right now! Need help getting your measurements or preparing to order, visit our How to Plissé section or place your order and note in the comments that you need some assistance. Doug the Screen Guy will get in touch right away to make sure you get exactly what you need for your home.
Still have some questions? Email Doug the Screen Guy now.
Check out some photos of Plisse Retractable Screens and Cats
The Templeton's Cat Enjoying her view through their new Plissé Retractable Screen on their Revcon Motorhome.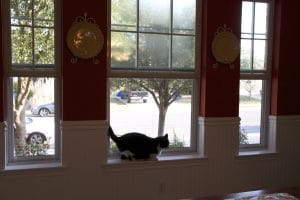 Lexie enjoys her safe view of the outdoors from her perch inside the Plissé retractable window screens on her human's home.

Here at Screen Solutions we don't discriminate – our retractable screen isn't just cat friendly but dog safe too.