How Long Will My Plisse Screen Last?
The LaLiberte's of Sun City, Texas
The LaLiberte's of Sun City, Texas have been enjoying bug-free time together on their back porch for 14 years this month. Â It was back on October 16 of 2004 that Doug the Screen Guy installed the screen you see them with here.
"We couldn't use our back porch at all before our Plisse screen," says Larry LaLiberte, explaining that the mosquitos were so awful in their backyard they worried for their health and safety.Â
"Our backyard is shaded with these old oak trees and all of the surrounding yards, including ours, have automatic sprinklers watering the grass daily," LaLiberte says.Â
This damp, shady environment is perfect for breeding mosquitoes which can carry deadly diseases such as West Nile Virus, Malaria and Zika Virus.
Plisse Provides a Solution
Now that the LaLiberte's have a Plisse retractable screen on their screened porch they say they sit outside every evening. They're able to relax peacefully on their back porch for as long as they want. "And I can sneak out to the yard to water my plants or fill the bird feeder and come back to the safety of our screened porch when the mosquitoes get to be too much," says LaLiberte.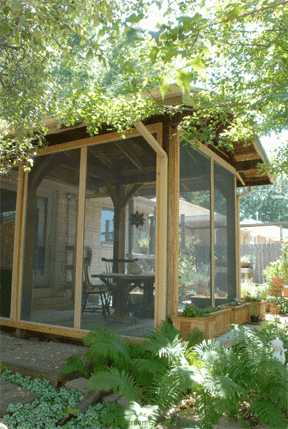 Plisse Retractable Screens for Porches & Patios
The Plisse retractable screen is an excellent way to utilize your outdoor space without the hassle of bugs. Â Use them to completely screen in an existing open porch or gazebo so that you can choose between having it completely screened or completely open at any time. Or screen that same patio with fixed screens and a single Plisse retractable screen door on just one side for easy entry to and from the yard.Â
And with proper care and maintenance, your Plisse screen can last for years and years.
---
A few other benefits of the Plisse retractable screen are:
Custom Built in Our Austin, TX Facility
Fits All Styles of Doors & Windows
Easy, Affordable DIY Product
Powder Coated Aluminum Frame for Durability in All Climates
Dual, Adjustable Handles
Choice of Bottom Rail Dust Cover or Pet Clips IncludedÂ
Screen Solutions' Customer Service
Screen Solutions is committed to ensuring that our customers are pleased with their product and knowledgable about how to care for  it so they can get the most out of their purchase from us.  That's why we continually provide updates, distribute service bulletins as needed and produce helpful care and maintenance videos.  We're here for you.
We couldn't be happier with our Plisse retractable screen and the service we've received from everyone at Screen Solutions. Â Doug the Screen Guy was an invaluable asset when planning for installation and we have recommended his company many, many times over the last 14 years.

Larry LaLiberte, 2018